Ryan Seacrest Foundation
A Note From Ryan...
Over the years, I've visited numerous pediatric hospitals that have the weighty task of caring for children facing serious illness or injury and I've always been amazed by the courage of the children and the families I meet. During these visits, I also learned that the patients were wanting more things to do to distract and entertain them during their hospital stays. This feedback really stuck with me and I told my family over dinner one evening that I wanted to create a foundation that would provide a positive distraction to hospitalized kids through the two things I know best: Radio and Television.
Along with my parents and my sister, we created the Ryan Seacrest Foundation and came up with the idea of building a multi-media studio with radio and television components in children's hospitals across the country, named Seacrest Studios. We started with launching our first studio in my hometown of Atlanta, GA in 2010 and the concept really blossomed from there with us building ten more studios. Our eleven studios have now become a place where patients truly get to be a star and forget about their medical treatments and procedures. Our programming provides an outlet for kids to host their own shows, interview celebrities we help to bring by, play games and more.
My foundation's goal is to continue to build and sustain Seacrest Studios across the nation to help lift the spirits of as many patients as possible. Thank you for taking the time to look around our website and learn more about what we do at RSF. The work of my foundation means so much to me and I'm truly grateful for your support.
Sincerely,
Ryan Seacrest
Founder/Chairman
Read More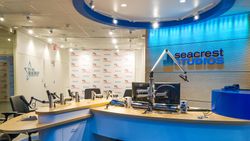 THERE IS INSPIRATION IN ACTION
Learn about the many ways you can partner with us to bring smiles to patients and their families.
Every. Story. Matters.
Learn more about both those we serve and those we work with.
You inspire us. Every day.
Join the Ryan Seacrest Foundation as we spread the word of hope and healing across social media.
Support those who support us!